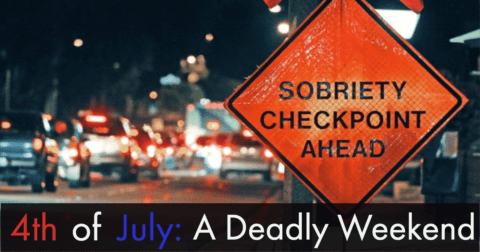 The Fourth of July has many implications for Americans nationwide – 150 million hot dogs consumed, 68 million cases of beer cracked open, $825 million dollars spent on fireworks and, unfortunately, more fatal car crashes than any other day of the year. According to the National Highway Traffic Safety Association (NHTSA), 40% of all highway deaths between 2007 and 2011 were caused by drunk driving over the Fourth of July weekend.
Over 47 million Americans will travel 50+ miles from their homes over the holiday weekend, 85% of people doing so by car. Taking these stats into consideration, combined with the fact that more beer is sold on Uncle Sam's birthday than on any other holiday, it's no surprise we have ourselves a recipe for disaster.
Do you know when you've "had too much?" The main problem drivers are facing is failure to recognize how much they've truly had to drink. After spending all day chugging beer and freedom, it's easy to lose track of how much alcohol you've really consumed. Save yourself a night in jail and the average $5,000-$25,000 in fees a DUI can cost you – and avoid driving drunk (or even tipsy) this weekend. In a time where rideshare services are so readily accessible to us, there's really no need to take any risks.
But if you should find yourself with some personal "fireworks"… check out our blog 5 Things to Know if You are Pulled Over for a DUI. As always, A 2nd Chance Bail Bonds is here to help you navigate an arrest 24 hours a day, 7 days a week – even on holidays. When you find you need a 2nd Chance, give us a call at whichever location best suits your needs.