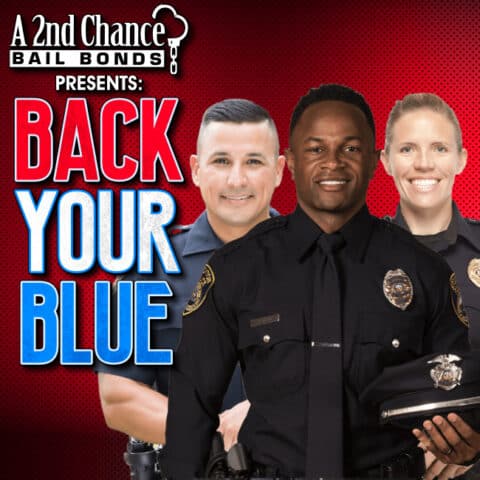 A 2nd Chance Bail Bonds and A 2nd Chance Monitoring see the positive impact local law enforcement agencies have every day in their communities and they want to share the good news! The new weekly radio show, Back Your Blue, highlights special initiatives, criminal justice programs and community events aimed at keeping our neighborhoods safer.  Join A 2nd Chance Bail Bonds CEO Daniel Matalon and News Talk Xtra host Tug Cowart to learn some good news about, and from, law enforcement and justice leaders.
WHEN:                Saturday mornings at 10:00AM
WHERE:              News Talk Xtra 106.3FM
WHO:                  Prominent guests in the law enforcement and justice communities
Our first slate of guests includes Sgt Jeremy Blake, Public Information Officer for the Cobb County Sheriff's office. A 14-year veteran of the Cobb County Sheriff's Office, Sgt. Blake is the cofounder of the agency Drone Program and holds an FAA Part 107 license. He serves as a member of the SWAT Team with a focus on robotics applications and deployment during a tactical situation.
Lawrence Zimmerman, has earned a stellar reputation from decades of successfully representing clients, Zimmerman is recognized by clients, peers, and media as an expert in criminal defense matters. He is a trusted news analyst for major news programs including local broadcast news as well as national news publications and programs. He is the past President of the Georgia Association of Criminal Defense Lawyers (GACDL), which has over 1,700 members in Georgia. He will be discussing the importance of good communication.
Flynn Broady, the Cobb County District Attorney, is an Army combat veteran and prosecutor who became District Attorney of the Cobb Judicial Circuit on Jan. 1, 2021. He strives to hold violent criminals accountable while restoring nonviolent offenders to productive lives. DA Broady believes wider community engagement, including expanded access to accountability courts and more visible victim advocacy, are essential to that effort.
(place this info in a shaded box)
Be sure to listen every Saturday or listen to the taped show on the Back Your Blue podcast.
Listen LIVE
WFOM | Xtra 1063 FM | Xtra 1063 FM 1230 AM – WFOM-FM
Listen to the taped podcast
Dickey Broadcasting | The Podcast Park
At A 2nd Chance Bail Bonds, we believe Everyone Deserves a Second Chance. We are revolutionizing the bail bonds industry by injecting respect into every interaction we have with clients and their families.